What is the DRX9000

®

?
The DRX9000® is a True Non-Surgical Spinal Decompression® System that is specifically engineered to provide relief for those suffering from pain, sciatica, and other symptoms associated with Herniated Discs, Bulging Discs, Degenerative Disc Disease, and protruding discs.
The DRX9000® treatment for back pain is designed to help healthcare providers treat low back (lumbar) pain. The machine uses a servo motor to provide spinal decompression therapy that is true to each patient's individual needs.
State-of-the-Art Technology
The DRX9000® machine has a screen controlled by a multi-media player. This machine provides relaxing music or educational videos about treatment for back pain, neck pain, herniated discs, bulging discs, sciatica, or any video you choose to play. The DRX9000® machine's treatment progress can be viewed by the patient through these displays. This will allow the patient to keep track of their DRX9000® treatment progress.
The DRX9000® dynamics uses targeted treatment to deliver treatment directly to the specific area of discomfort. Back pain can be caused by herniated discs, bulging discs, or degenerative disc disease in different parts of the spine. The disc level region is the specific level of the disc that is causing the symptoms of pain. Using the targeted disc level treatment allows for precise treatment.
How It Works
The DRX9000® system works to decompress the spine and relieve nerve compression by applying pressure to the vertebrate columns. Stretching the spine creates a gap between the discs, which allows for an improved flow of nutrients. With regular treatment sessions, many patients are seeing a reduction in their symptoms and are able to live better and happier lives.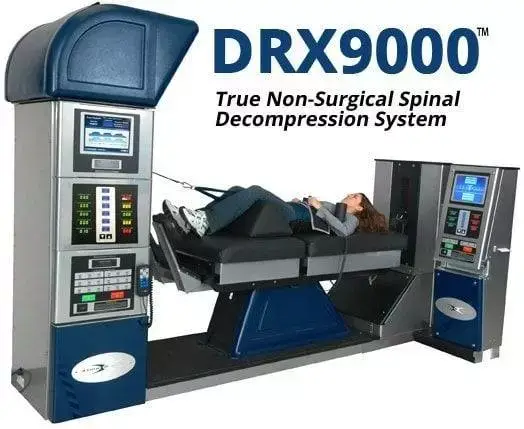 Looking to Avoid Back or Neck Surgery?
Advanced Spine & Disc's innovative, state-of-the-art equipment, which includes spinal decompression on the DRX9000®, helps our patients obtain the back or neck pain relief they need with safe and effective methods. It eliminates the need for surgery, pain pills, or injections.
If you believe that your chronic neck or back pain is a sign of this condition, contact Advanced Spine & Disc to schedule a consultation with Dr. Clark. Each consultation with Dr. Clark includes:
a full examination of your symptoms, limitations, and pain history
a clear explanation of what current diagnostic imaging and other symptoms mean
a specialized and effective treatment that can solve the cause—not just the symptoms—of your chronic pain
Dr. Clark enjoys helping many of his patients gain relief from their neck or back pain and get back to enjoying their lives. He will take the guesswork out of discovering the right treatment for you using proven, non-surgical methods. Advanced Spine & Disc's state-of-the-art equipment, including the DRX9000® decompression machine, is another innovative feature that can help patients like you battle back against pain and get their life back.
Neck & Back Pain Relief – Chiropractic – DRX 9000

®

Spinal Decompression Therapy in Murray, UT